Posted by Steve Stout -
email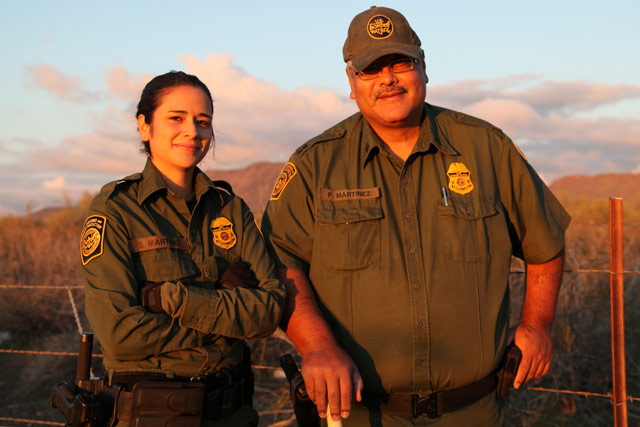 (Photo Courtesy of U.S. Border Patrol) Sara Martinez and Paul Martinez
In most families, traditions run deep and play an important role in passing knowledge from one generation to the next. The United States Border Patrol
shares
that family tradition. A Tucson Sector agent is now passing the torch to his daughter by working together with her to teach her time-honored techniques.
Supervisory Border Patrol Agent Paul Martinez, of the Ajo Border Patrol Station, with more than 30 years experience in the Border Patrol, influenced his daughter, Border Patrol Agent Sarah Martinez, to join the Border Patrol. She entered on duty July 28, 2008, and after successful completion of the United States Border Patrol Academy she was assigned to the Douglas Border Patrol Station.
Sarah said she grew up going on hikes with her father and he taught her the art of tracking at a young age. She said she thoroughly enjoyed the outdoors and was attracted to the exciting career of being a Border Patrol agent.
"My father was a Border Patrol agent before I was even born," said Sarah. "I grew up around the Border Patrol and it's always been a huge part of my life."
Paul, who will be
retiring
from the Border Patrol in January 2012, requested to spend a week working in the field alongside his daughter. Together they worked the arduous terrain of the Ajo Station area of responsibility where he expanded on Sarah's technical expertise in the field by teaching her proven techniques that he accumulated over his successful career.
Although he is very proud of Sarah, Paul said he has the same concerns as any other father for a child who has chosen a dangerous career field.
"Of course I was nervous at first as any parent would be because it is a dangerous job," he said. "Being a Border Patrol agent myself, I am confident in her training. I am very proud of my daughter and I am excited for her to be a Border Patrol agent during this very challenging time."
The Tucson Sector Border Patrol is very proud of its long standing traditions and reputation for dedicated service. Even more so, it is grateful for the generations of families who have chosen the Border Patrol as a way to serve the United States of America with pride and vigilance, making it a part of family legacies.
Copyright 2011 KPHO. All rights reserved.