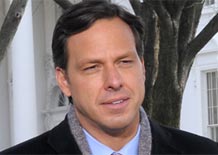 Political coverage and musings on pop culture from ABC News Senior White House Correspondent Jake Tapper and the ABC News White House team.

ABC News' Jason Ryan (@jasonryanabc) reports:
The Phoenix office of the Bureau of Alcohol, Tobacco and Firearms allegedly kept ATF agents in Mexico out of the loop about a botched gun trafficking investigation that resulted in numerous weapons going to Mexico's drug cartels with almost 122 weapons being recovered there, a congressional investigation says.
You can read the report HERE.
The ATF's controversial "Fast and Furious" programs allowed firearms to "walk" across the U.S. border into Mexico in hopes of tracing the guns and locating major weapons traffickers. The operation took a tragic turn when two weapons found at the scene of murdered U.S. Border Patrol Brian Terry were found to be linked to Fast and Furious.
ATF devised the program in 2009 to try and track straw purchases of firearms where a gun is legally bought but then illegally sold to another individual.
A Congressional investigation led by Rep. Darrell Issa, R-Calif., and Sen. Charles Grassley, R-Iowa, have revealed deep flaws in the program that was run out of the ATF's Phoenix office. Tuesday current and former ATF officials are expected to testify before the House Oversight Committee about their frustrations with the program over being denied access to information about the Fast and Furious operation and being blocked on gun trace information about weapons that were being recovered in Mexico.
‪According to the report in March 2010, "ATF intelligence analysts told ATF and DOJ leadership that the number of firearms bought by known straw purchasers had exceeded the 1,000 mark. The briefing also made clear these weapons were ending up in Mexico."
In a congressional report being released in conjunction with the hearing the findings note, "ATF and DOJ leadership kept their own personnel in Mexico and Mexican government officials totally in the dark about all aspects of Fast and Furious. Meanwhile, ATF officials in Mexico grew increasingly worried about the number of weapons recovered in Mexico that traced back to an ongoing investigation out of ATF's Phoenix Field Division."
The congressional report notes that ATF intelligence analysts notified the ATF's attaché in Mexico, Darren Gil, and Carlos Canino, Deputy Attaché, about a large number of guns showing up in Mexico from the Phoenix field office investigation.
"Hundreds of weapons were suddenly appearing in Mexico – traced to Phoenix – without explanation. Gil and his agents struggled to get answers from their own agency. Although ATF officials in Phoenix and Washington, D.C. acknowledged that an investigation was underway, they refused to share the details of the strategy and operation with the agents in Mexico…ATF officials in Mexico finally realized the truth: ATF was allowing guns to walk. By withholding this critical information from its own personnel in Mexico, ATF jeopardized relations between the U.S. and Mexico." The report noted.
The Tuesday hearing intends to examine why ATF was knowingly allowing the guns to travel south to Mexico. According to the report, in an interview with committee investigators the Mexico Deputy attaché Carolos Canino said, "There was no gray area here. We knew that these guys were trafficking guns into Mexico. There is no gray area. They weren't trafficking, [the] guys weren't going out and buying two Larson 22 pistols. These guys were buying 7.62, 223's, .50 caliber rifles, okay, there was no mistake about this."
The report also reveals that Fast and Furious weapons were recovered at the scene of Sinaloa drug cartel members who allegedly kidnapped and killed the brother of Mexico's former attorney general. The report notes of Mario Gonzalez Rodriguez, a Mexican lawyer, "On November 5, 2010, Mexican authorities found Mario Gonzalez Rodriguez's body in a shallow grave.147 Shortly after this grisly discovery, the Mexican federal police engaged in a shootout with drug cartel members, which resulted in the arrest of eight suspects. Police seized sixteen weapons from the scene of the shootout. Two of these weapons traced back to Operation Fast and Furious."
The report also notes that a .50 caliber rifle used to shoot at a Mexican police helicopter was also linked to the operation.